Spain's coastlines provide a dream setting for windsurfing enthusiasts. From beaches with constant winds to challenging waves, here are the top 9 beaches in Spain for Windsurfing. Get your board and sail ready, and dive into Spanish waters filled with adrenaline and fun.
Top 9 Beaches in Spain for Windsurfing
Beaches in Tarifa for Windsurfing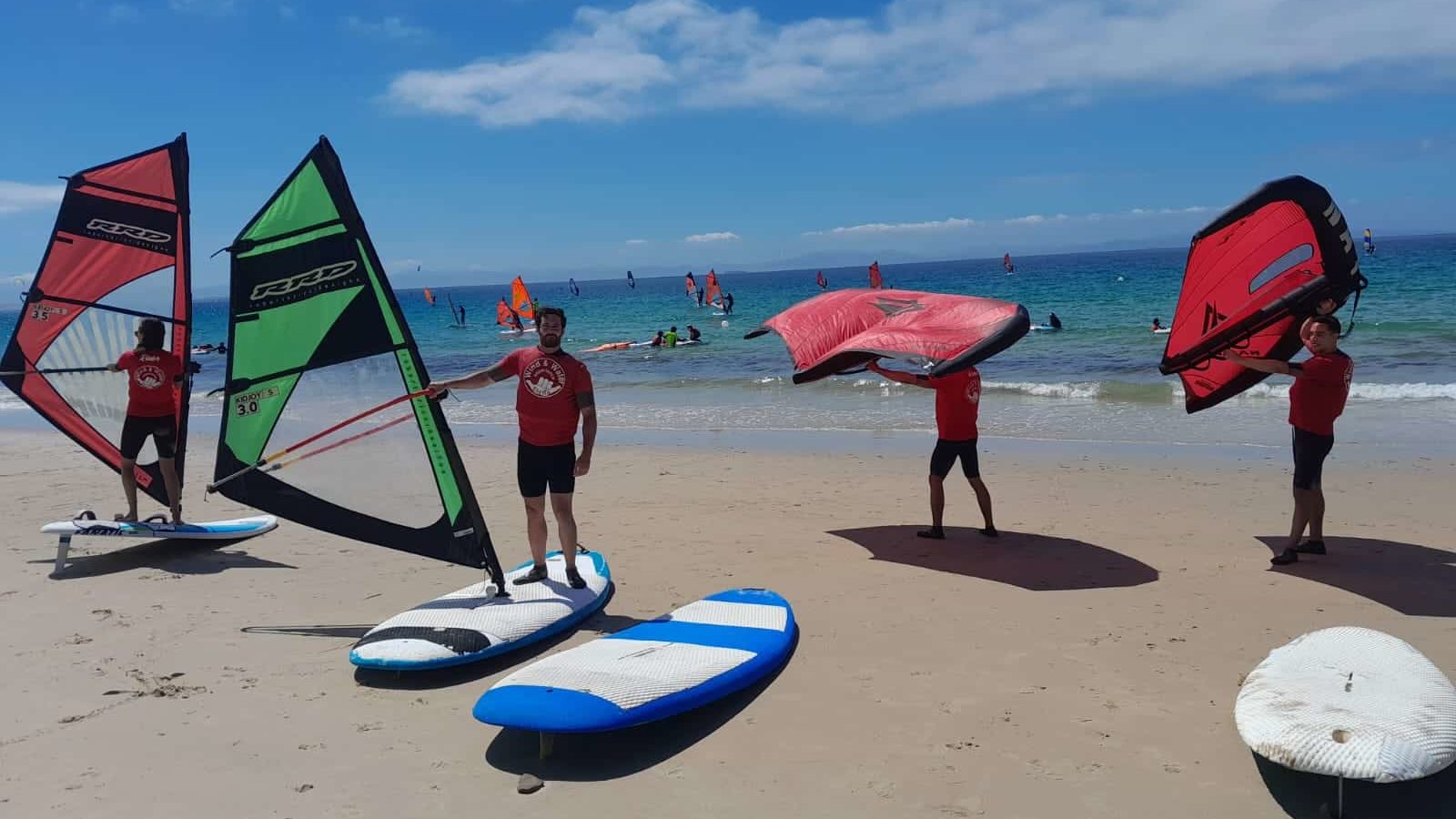 1. Valdevaqueros Beach, Tarifa (Cádiz):
This beach in Tarifa is famous for its combination of gentle and strong winds. Perfect for beginners and experts alike, Valdevaqueros is an amazing place to enjoy windsurfing and the relaxed atmosphere. 300 days of wind a year makes tarifa the top 1 beach in Spain for windsurfing.
Book your Windsurfing classes in Tarifa with Wind & Water Experience.
2. Los Lances Beach, Tarifa (Cádiz):
Another gem in Tarifa is Los Lances Beach. Its shallow waters and constant breeze create a cozy environment for beginners. Moreover, it's an ideal place to combine windsurfing with stunning views.
Book your Windsurfing classes in Tarifa with Wind & Water Experience.
Beaches in the Canary Islands for Windsurfing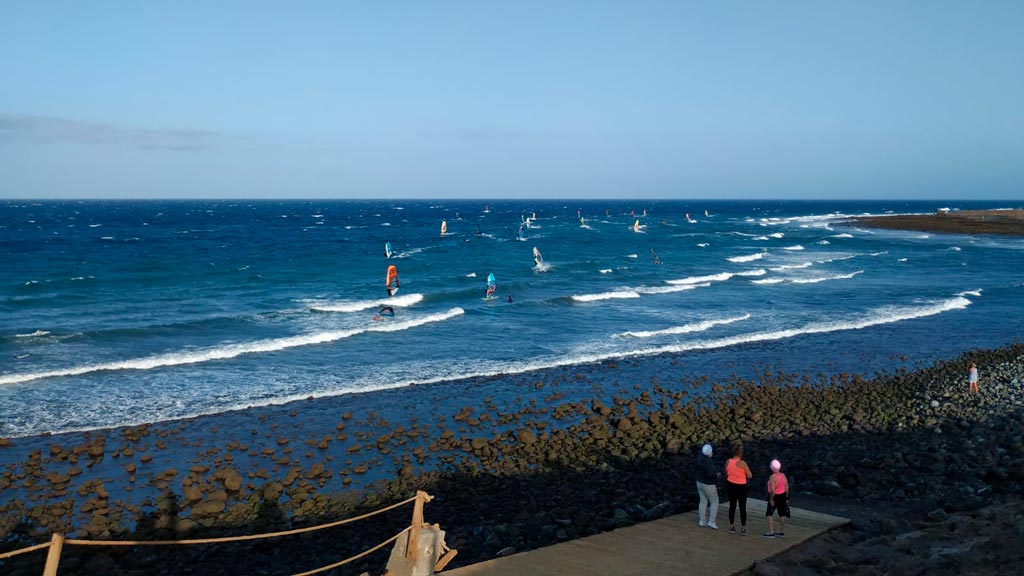 3. Pozo Izquierdo Beach, Gran Canaria:
Pozo Izquierdo in Gran Canaria is famous for its constant winds and challenging waves. Here, windsurfing professionals feel at home, and the Windsurfing World Championship is celebrated every year.
4. El Médano Beach, Tenerife:
El Médano is known for its calm waters and regular winds, making it an ideal spot for all skill levels. Tenerife provides a perfect environment to learn and refine your skills.
5. Famara Beach, Lanzarote:
The extensive stretches of Famara Beach in Lanzarote offer gentle and consistent waves. Both beginners and experts can enjoy its waters, creating memorable moments in every windsurfing session.
6. Las Cucharas Beach, Lanzarote:
Another gem in Lanzarote is Las Cucharas Beach. Its consistent conditions and shallow waters make it an excellent spot for beginners and families. Nearby schools will help you improve your skills.
7. Sotavento Beach, Fuerteventura:
Known for its strong winds, Sotavento in Fuerteventura is a paradise for windsurfing enthusiasts. The lagoon offers ideal conditions to learn and practice safely.
Beach in the Balearic Islands for Windsurfing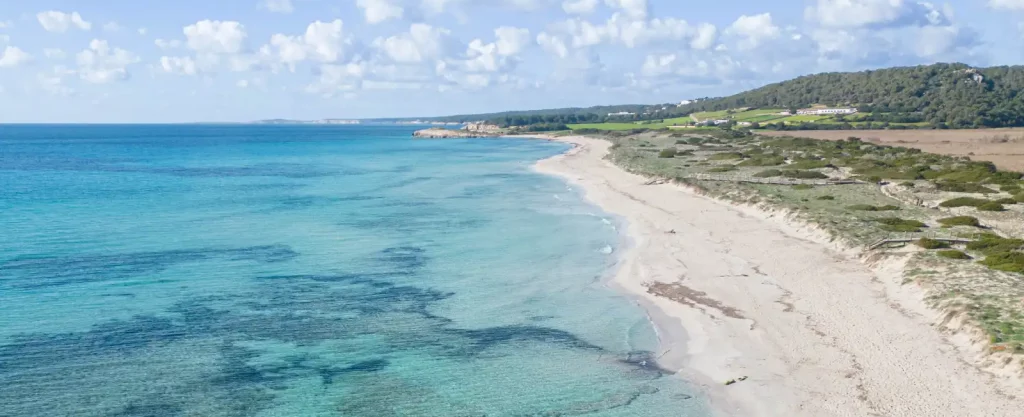 8. Son Bou Beach, Menorca:
On the tranquil island of Menorca, Son Bou Beach is perfect for beginners. Its warm waters and gentle winds create a relaxing environment to learn and enhance your skills.
Beach in Murcia for Windsurfing
9. Los Alcázares Beach, Murcia:
Located on the Costa Cálida, Los Alcázares is ideal for windsurfing beginners. Its shallow waters and temperate climate make learning windsurfing a pleasurable and exciting experience.
Conclusión:
From the Atlantic to the Mediterranean, Spain offers a variety of beaches to enjoy windsurfing. Whether you're an enthusiastic beginner or an expert seeking challenges, these beaches will provide you with the opportunity to feel the breeze on your face and conquer the waves. Embark on these exceptional beaches and experience the thrill of windsurfing at its peak. Spanish waters await you for an adventure filled with fun and adrenaline.